1. Thimphu Tshechu Festival
Thimphu Tshechu is the biggest and the most popular festival of Bhutan. Thousands of people, all decked up in fine colorful attires, flock to the capital to be a part of the festivities. There are colors, there are dance performances, there are activities, and there are plays in this Bhutan festival. However, the colorful mask dances, where people and monks dance their heart out to celebrate life and cheeriness of Bhutan, steal the show.
Duration: 3 days
When: 10th Day of 8th month of Lunar Calendar.
2. Jambay Lhakhang Drup Festival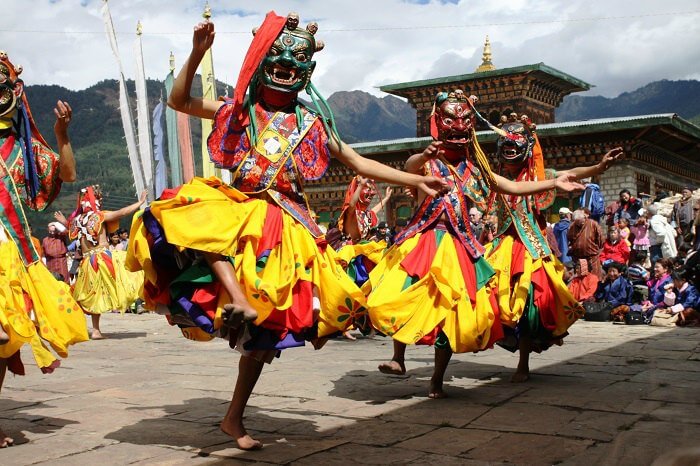 Naked dancing, fire dancing, mask dancing – Jambay Lhakhang Drup has it all. Traditional dances are performed to celebrate the foundation of Jambay Lhakhang Monastery and to honor Guru Rimpoche. Mewang – the fire ceremony, attracts thousands of tourists and features locals dancing under a flaming structure made of dry grass. Meanwhile, the event highlight is 'Dance of Treasure' – Tercham, where masked dancers and monks perform naked. This part of the festivities take place in the middle of the night.
Duration: 4 days
When: Since this one of major Bhutan festivals, is celebrated according to the Lunar Calendar, it can fall anytime during October – November.
3. Wangdue Phodrang Tshechu Festival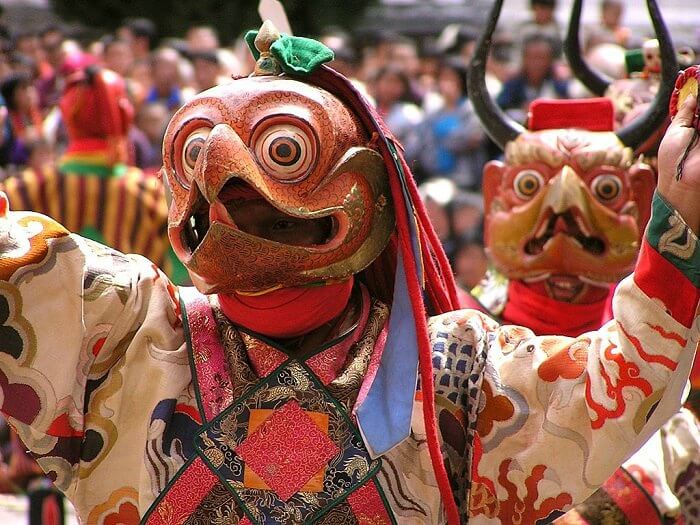 The region of Wangdue Phodrang, central Bhutan, is famous for its ornamental speeches and songs known as Lozeys. The annual festival was introduced after the completion of Dzong, which is a fortress, in 1639. It is one such Bhutan festival, where locals and thousands of tourists come together to revel in the festivities and to celebrate life and merriment. The 'Dance of Ox' is also a major attraction, where people dance to ensure a peaceful afterlife. The festival is concluded with the unfurling of a gigantic scroll of various paintings, known as Guru Tshengye Thongdrol.
Duration: 3 days
When: Since this one of major Bhutan festivals, is celebrated according to the Lunar Calendar, it can fall anytime during October – November.
4. Punakha Drubchen and Tshechu Festival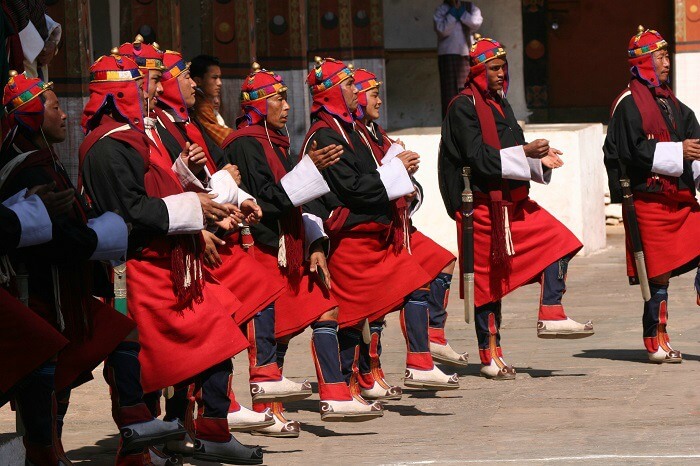 Out of all the festivals in Bhutan, Punakha Drubchen is most unique. It is about recreation of some consequential scenes and moments from the Tibetan Army battle of 17th Century. The local military officials recreate and re-enact the scenes dressed in full battle gear complete with swords. It is to celebrate the victory and to pay tribute to the villagers who came forward to drive out the Tibetan army out of their country. It shows gratitude to these people because of whom, Tibet was unable to take over Bhutan.
Another major Bhutanese festival, Punakha Tshechu follows immediately, which is known for its colorful dance performances and cheerful environment.
Duration: 3-4 days
When: February or March is usually the month when this popular Bhutanese festival is celebrated.
5. Paro Tshechu Festival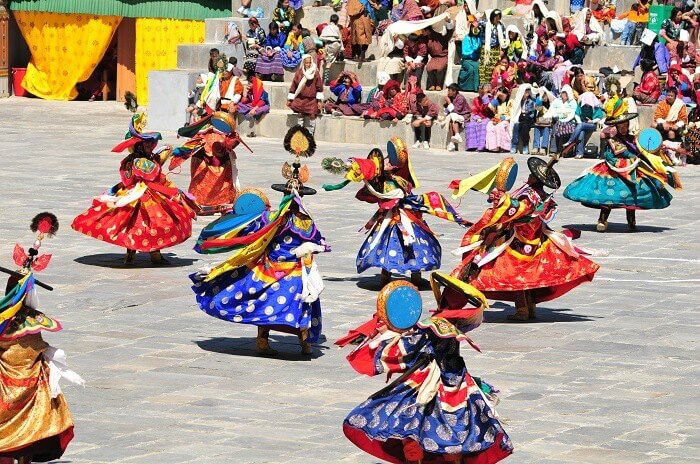 One of the most famous festivals in Bhutan is Paro Tshechu. Monks and laymen dress up in vibrant multicolored brocade costumes. They mingle, they dance, they enjoy and they celebrate. Monks, wearing masks which represent the deities, re-enact and replay the scenes from legendary tales and historical anecdotes. However, the showstopper of the festival is the moment when people get the much awaited glimpse of 350 years old Thangkha, which is one of the oldest Buddhist religious scrolls. It has narratives from history, celebrating the high deeds of Guru Rimpoche. The reason why Paro festivals in Bhutan are known to be the most visited ones around the country, is its hospitality and connectivity.
Duration: 3-4 days
When: It is the most popular spring festival of Bhutan, and takes place in the months of March or April.
6. Haa Summer Festival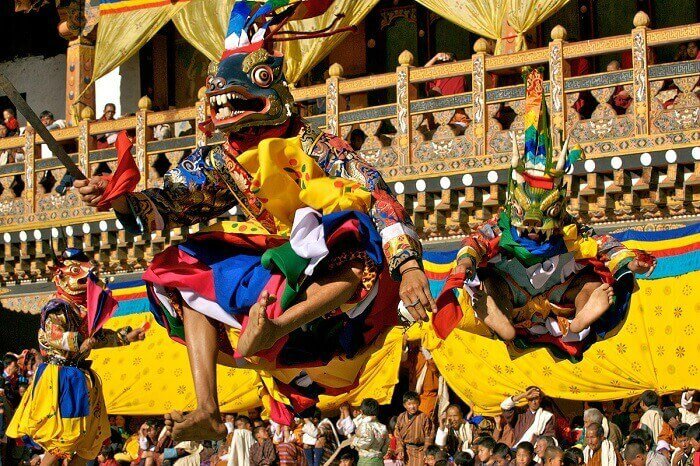 One of the newly found festivals in Bhutan is Haa Summer Festival. Locals and tourists come together to celebrate the culture, heritage, religion and sports of Bhutan. The festival is mainly dedicated to the nomads of Haa Valley. Some of the most consequential moments and cultures of these nomads are showcased during this festival in the form of vibrant pictures and lively paintings. The best part is that even tourists can participate in some of the fun activities like yak riding, folk dance, and food tasting
Duration: 2-3 days
When: This Bhutan festival is usually celebrated in July, every year, since 2012.